Release

Stress

, Relieve

Pain

, Burn

Fat

& Improve your

Life Quality
EMS: The Ultimate Tool for Better Blood Circulation!
Our EMS Device helps improve overall health while boosting better blood circulation and flow in the body with the use of Electro Magnetic Stimulation.
It stimulates acupuncture points in the body that aid in weight loss, pain relief, circulation, muscle relaxation, and lymphatic drainage.
What is EMS Technology?
EMS is a world-renowned technology that works by delivering electromagnetic stimulations that activate nerves and acupressure points in the body, activating muscles, bettering lymphatic health, and boosting blood circulation. EMS applied on the body causes muscles to contract and squeeze veins, which helps move blood efficiently into the bloodstream and back to the heart.
The Role of Pulsating Technology
Pulsating Technology uses electrical pulses to send signals to activate muscles or nerves and treat them through a series of electrical pulses. These mild electrical currents cause repeated muscle contractions, which improve blood flow, repairs injured muscles, improve lymphatic drainage, and relieve stress.
The Importance of The Lymphatic System
The lymphatic system is part of the immune system. It keeps body fluid levels in balance and defends the body against infections. Lymphatic vessels, tissues, organs, and glands work together to drain a watery fluid called lymph from throughout the body. It drains extra lymph fluid from body tissues and returns it to the blood, an important cycle that our bodies need.
Improving Lymphatic Drainage through Acupoint Massage and Stimulation
Acupoint massage is believed to boost our Lymphatic system and how effective our Lymphatic drainage can be. It can assist in the detoxification process of our bodies by allowing the lymphatic system to drain fluids much faster and easier that may be carrying cellular by-products and other wastes.
How does the EMS Hanging Device Work?
By using the EMS and Pulsating Technologies simultaneously, our EMS Device can double down the effects and benefits of electromagnetic stimulation and electric pulses to make the benefits of the two more effective in one quick and easy, simple product.
5 Modes and 15 Strength Adjustments: The Perfect Therapy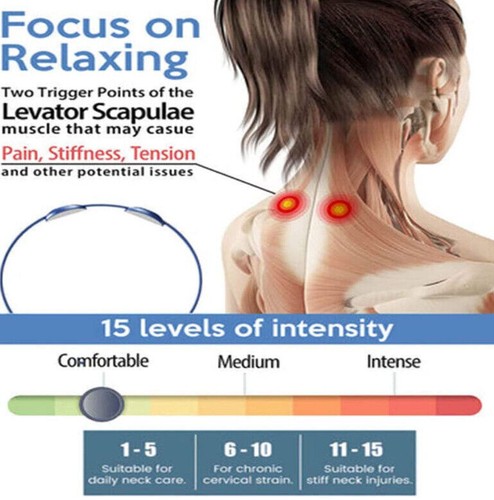 Our EMS massage device comes shipped with 5 modes and a wide range of 15 intensity levels. This feature makes it the perfect massage device since you can customize your massage therapy just the way you like it. Allowing our product to fit any type of body and person. It also has a heating element that can consistently heat up to 45-55°C.
Wide Usage (can be used on different body parts)
Works perfectly in different parts of your body. Helps address all kinds of body pain, muscle strain, and stress, and allows you to relax through soothing pulsations and electromagnetic stimulations.
Proven Results (Customers Loved it Worldwide)
"This product is such a life changer! Never thought a simple neck massager could offer so many health benefits in one device! I've lost so much weight and feel so much healthier and stronger since using it! ⭐⭐⭐⭐⭐"
Specifications
Variants: Ivory, Sapphire
Materials: ABS Plastic
Features: EMS Technology, Electronic Pulsating Technology
Weight: 56g
Rated Power: 5W
Power Input: Voltage 5V≈1A
Rated Frequency: 50Hz
Modes: 5
Intensity Levels: 15
Battery Capacity: 600mAh
Charging Method: USB-C
Heating Element Capacity: 45-55°C
Adjustable buckle
Package Includes
1x EMS Neck Acupoints Massage Lymphvitic Device (Colour: Blue / White)