Works on High-Pressure Water Only
Features:
Multi-Cleaning Hose: Ideal for many watering and cleaning uses, such as gardening, car washing, house cleaning, bathing pets, etc
7 Adjustable Modes: Includes tap connector and multifunction spray nozzle with 7 adjustable modes, including shower, flat, center, cone, full, mist, jet, and the universal connector simply attaches to most garden taps. also very simple to change the water pattern.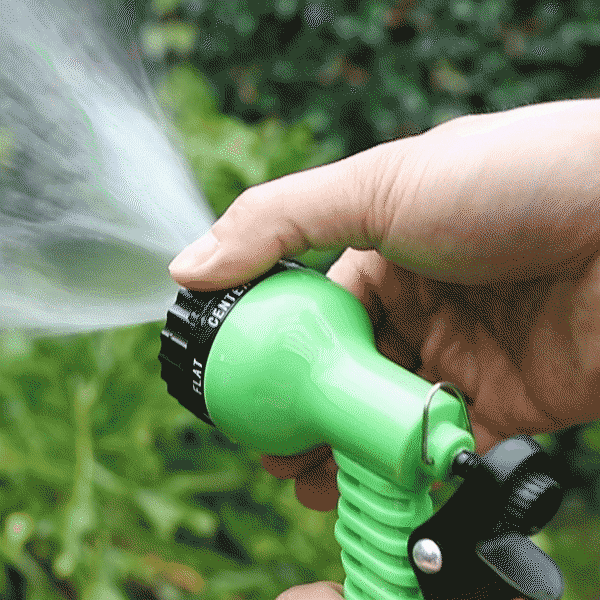 Durable: A thick inner core is covered by durable webbing, and each fitting is attached with a metal coupling. When compared to other options it will work better and last longer.
Lightweight:  Much lighter than traditional hoses, and other bulky, non-kinking alternatives. The material makes it effortless for anyone to use it, but it doesn't reduce durability or longevity.

Expands:  Once filled with water it will triple its size to extend across your yard or driveway.  The magic expandable hose can expand up to 3 times quickly and returns to its original length in a short time once water is empty. The water hose is long enough to water around the garden or car. Shrink size 16 – 17 ft and expand size 50ft.
Contracts:  Once you turn the water off, the hose will quickly shrink down and become small again. It practically puts itself away, and the compact size allows for easy storage almost anywhere.
Kink Proof:  With no chance of twisting or tangling, you never have to worry about the loss of water flow as you do with other options.
Powerful: The thick rubber inner hose results in increased pressure, and a powerful spray.
On/Off Valve:  A quick flip of the switch will turn the water flow on or off. Easily pause to prevent damage, move locations, or complete another task.
Meet Your Diversified Needs:  Garden hose pipes are widely used for watering plants, washing cars, cleaning windows, balconies, floors, bathing pets, etc. And hoses are flexible and light, the elderly can also easily use them.
Operation Steps:
Make sure the rubber washer is placed firmly inside the connector for the plug. It will prevent leaking when using the Garden Hose for the first time. It is recommended to slightly stretch the hose to release tightness in the outer folder material covering.
Attach the female end of the Water Hose Pipe to the water source.
Turn on the water source. Gradually increase the water pressure. The Flexible Expandable Hose Pipe will automatically expand up to its original length. You can use it just like an ordinary hose.
Turn off the water spigot when you finish using the Magic Hose. Drain out the remaining water. The Expandable Flexible Magic Hose Pipe will contract back to its original length while draining water.
Tips:
The optimal working temperature for the hose pipe is 41°F-113°F, Please do not run hot water through this hose.
Drain water from the hose when not in use, and store it in the bag.
Please make sure that the water pressure is in the normal range of 3-12bar.
Please keep hose pipes in a shaded place instead of exposing water pipes to the sun for a long time.